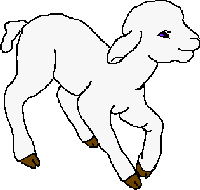 by Carson Brackney
I hate lamb.  I don't like it with mint jelly (double my displeasure).  I don't like the lamb ribs at Jackstack's.  I'd rather spend my life choking down NJ diner scrapple or San Antonio street fair tripe tacos than to force another spoonful of mutton past my tongue.
Obviously, lamb isn't for everyone.
I know there are people out there who do like lamb.  It's their special Easter dinner yum-yum.  Their all-time favorite.  They eat lamb the way I eat beef.
Personally, I think it's an absolutely horrific decision.  In my opinion, it's on par with drinking Drano with a Clorox chaser.
However, I've somehow managed to stop myself from smacking people over the head with a chuck roast every time I see my Price Chopper shoppers buying lamb.
It's a live and let live thing (not for the cows and the lambs destined for our bellies, though).
You see, I recognize that it's all a matter of opinion.  I realize that there may be some kitchen mastermind out there who has found a way to make lamb absolutely delicious–or at least tolerable.  I also realize that my taste buds aren't necessarily identical to every other set of taste buds in the world.  That's one reason why Applebee's stays in business, by the way.
Why am I writing about lamb?  Well, it's because I think there are too many writers out there who lack the kind of self control I display when standing at the meat counter.
You've heard them:
Writing articles for only $X each is STUPID.  It's gross.  It's horrible.  It's the worst decision ever made, including trading David Cone for Ed Hearn.  You should never, never, never, never do it no matter what.  I don't care if the only way to save your family from a hostage situation is writing a $5 article about kitchen tile installation.  Let the children die.  Don't do it!
Here's the scoop, my naysaying friends in the writing world…  No one is making you do a damn thing.  There's no requirement for you to write a bulk series of articles at low per word rates.  And you can feel free to grab some chicken instead of lamb the next time you hit the grocery store.
Look, I'm not saying that writing lower rate content is right for you.  I don't know you.  It may be an extremely foolish decision.  Then again, it may be utter brilliance.  It all depends on what you like to do, how fast you can do it, how much you know about the topics under consideration, your schedule, your goals, your needs and about 4,883,010 other things that I'm not going to cover in this post.
If you're making a decision based on solid information and you've explored your options, full speed ahead.  Go do your thing.  Write hard, write fast, grab your money with both hands and go spend it on a leg of lamb or a few delicious KC strips.
It's your call.
Hey, some of those who'll steer you in a different direction are well-intended.  Many are true believers, convinced they know The Way.  Many are extremely helpful and can show you how to move into different markets that pay more per piece than low-end content work.  Hell, some of them may be on a fast track to canonization and only want the very, very best for you with absolutely no concern for their own well-being.
When push comes to shove, however, you need to consider their recommendations in light of YOUR situation.  You need to decide what gigs to take and what groceries to toss into your cart.
*****

When he isn't trusting people to make wise choices and stirring up trouble, Carson Brackney is a copywriter, consultant and all-around factotum.  You can check out his wonderful, eponymous website, Carson Brackney at your leisure.  He also invites you to become his very special Twitter buddy.